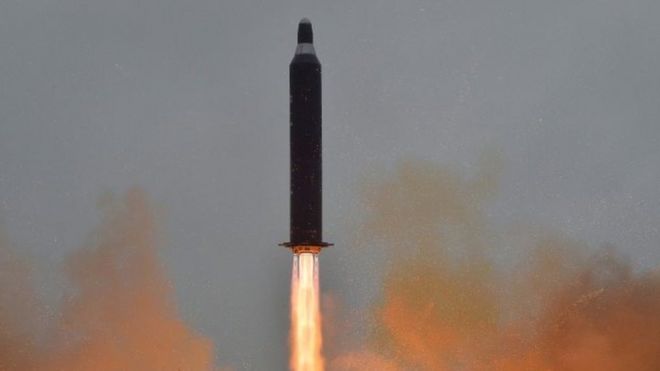 North Korea has test-fired another ballistic missile, South Korean and US military officials say.
The missile exploded shortly after take-off, they said - the second failed launch in the past fortnight.
US President Donald Trump accused North Korea of showing "disrespect" towards China and its president.
The missile was fired from a site in South Pyeongan province, north of Pyongyang, in the early hours of Saturday local time, South Korea said.
Mr Trump
tweeted
: "North Korea disrespected the wishes of China & its highly respected President when it launched, though unsuccessfully, a missile today. Bad!"
Mr Trump recently hosted Chinese President Xi Jinping and praised his Chinese counterpart for "trying very hard" on North Korea.
The failed launch came just hours after the United Nations Security Council discussed North Korea's missile programme.
Mr Trump's Secretary of State Rex Tillerson called for a tougher international approach to the isolated communist state - but also signalled that the US might be prepared to negotiate with North Korean leader Kim Jong-un.
Tensions in the region have increased lately, with both North and South Korea conducting military exercises.
North Korea is believed to be continuing efforts to miniaturise nuclear warheads and fit them on long-range missiles capable of reaching the US.

Read more:-
http://www.bbc.co.uk/news/world-asia-39750240